Farella Braun + Martel Partner Carly Alameda Co-Founds WISE: An Association Focused on the Professional Advancement of Women in Law
January 17, 2017
Announcement
Farella Braun + Martel is proud to announce the launch of Women In-House Support Equality, or WISE, a professional organization dedicated to supporting the advancement of women in the legal profession. Carly O'Halloran Alameda, a business litigator and partner at Farella, is a founding member and hosted the kickoff event at the firm's San Francisco office on January 11. Along with Alameda, the founding team includes Olga Mack, general counsel from ClearSlide, Katia Bloom, associate general counsel at ForgeRock, and Sasha Burstein, corporate partner at K&L Gates.
WISE is an alliance of in-house attorneys and law firm partners, formed to facilitate relationships and development opportunities to support the advancement of women attorneys. The organization provides a year-long program that pairs a "class" of outside counsel, comprised of ten female partners, with a similar number of core in-house counsel participants to work together at substantive program events focused on various skills and topics meant to foster collaboration as well as professional development. Additional development opportunities are expected through one-on-one lunch pairings between events, which will also include a number of the program's ad hoc in-house counsel members, including both men and women in-house counsel committed to promoting diversity within the profession.
"One of the main goals of WISE is to facilitate the building of closer relationships between our women law firm partners and our amazing in-house counsel members," Alameda explains. "We hope these interactions will lead to valuable opportunities for our members to learn from each other, grow, advance, do interesting work, and to be leaders in navigating the evolving legal marketplace and the relationship between in-house and outside counsel."
Alameda adds, "We have quite an accomplished group of in-house attorneys and partners committed to our program, representing a cross section of companies and law firms in the Bay Area. And we have extraordinary speakers lined up for each of our substantive programs. We are looking forward to providing a platform for our members to come together, to create what we expect will be a fun and dynamic environment for networking and professional growth."
The kickoff luncheon included networking with all 22 core members, and a discussion on plans and goals for the year ahead. Co-founder Katia Bloom led the discussion along with Alameda, and each of the members spoke to introduce themselves and share a bit of their rich backgrounds. The next event will be hosted at K&L Gates in March. For more information on events and membership, go to www.wiselawyers.org.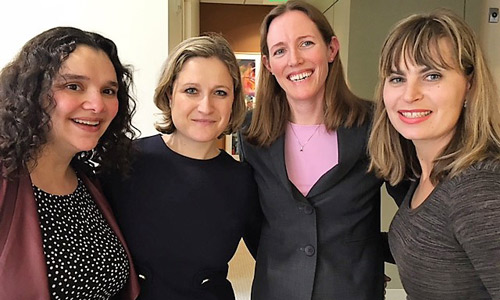 Farella Braun + Martel represents clients throughout the United States and abroad in sophisticated business transactions and complex commercial, civil and criminal litigation. Farella lawyers are known for their imaginative legal solutions to today's business challenges, dynamism and intellectual creativity. With an unwavering service ethic and interdisciplinary team approach, the firm is committed to advancing clients' objectives in the most effective, coordinated and efficient manner. Founded in 1962, the firm is headquartered in San Francisco and maintains an office in the Napa Valley focused on the wine industry.
Contact:
Cheryl Loof
Farella Braun + Martel LLP
415.954.4433 / [email protected]
Follow us on Twitter: @FarellaBraun