Creating a Fantastic Workplace Culture: Vault.com Best Midsize Law Firm Panel
November 4, 2021 at 11:00am

–

12:00pm
(PST)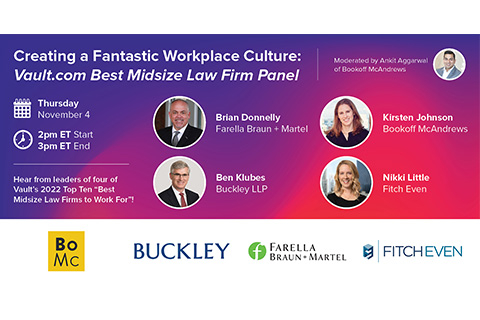 How do you create a welcoming office culture where people enjoy what they do and feel heard, valued, and respected?
Please join us for a virtual roundtable featuring leaders from four of the Top Ten firms on Vault's 2022 list of "Best Midsize Law Firms to Work For."
Brian Donnelly of Farella Braun + Martel, Kirsten Johnson of Bookoff McAndrews, Ben Klubes of Buckley LLP, and Nikki Little of Fitch Even will talk about what values their firms promote, what efforts they've embraced, and how they are able to achieve such great success with their initiatives.
They will share stories and advice that will provide you with inspiration to overcome various common hurdles and start to enact meaningful positive change in your organizations (better yet, they are all hiring!).
The panel will be moderated by Ankit Aggarwal of Bookoff McAndrews. To register, please click here.