Farella Highly Commended by Chambers in "Inclusive Firm of the Year" Award Category
September 24, 2020
Announcement
SAN FRANCISCO, September 24, 2020: Farella Braun + Martel is proud to announce that it earned recognition as the "Highly Commended" law firm in the "Inclusive Firm of the Year" USA category at today's Chambers Diversity & Inclusion Awards: North America 2020. The firm was one of two firms from across the country honored in this category.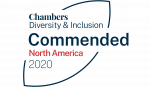 According to Chambers, the awards celebrate the fantastic achievements of firms and individuals who are furthering the advancement of diversity and inclusion across the USA and Canada.
Farella Braun + Martel is a leading Northern California law firm representing corporate and private clients in sophisticated business transactions and complex commercial, civil and criminal litigation. Clients seek our imaginative legal solutions and the dynamism and intellectual creativity of our lawyers. We are headquartered in San Francisco and maintain offices in the Napa Valley that are focused on the wine industry.
Contact:
Cheryl Loof
Farella Braun + Martel LLP
415.954.4433 / [email protected]