Welcome to Upside: A podcast by Farella's Private Equity and Venture Capital Group
June 23, 2022
Announcement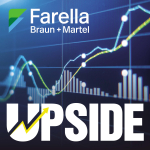 Farella Braun + Martel's Private Equity and Venture Capital Group is pleased to announce the launch of our podcast Upside.
Through this podcast, we will discuss important business and legal issues impacting investors, sponsors, and managers of private equity, and venture capital funds.
Each episode is co-hosted by a Farella lawyer and some episodes will feature special guests sharing their insight, knowledge, and expertise.
Please join us on this journey by visiting UpsideWithFarella.com and subscribe wherever you listen to podcasts.
Thank you for listening!