Peninsula Boom: An Update on San Francisco's Life Sciences Hub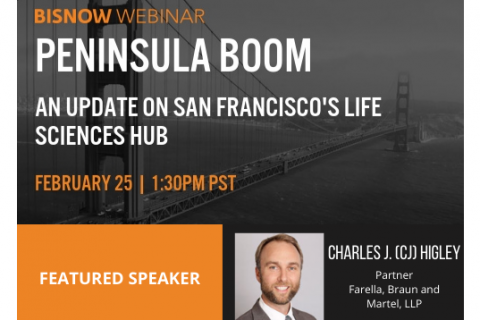 CJ Higley is a panelist at Bisnow's live webinar, "Peninsula Boom: An Update on San Francisco's Life Sciences Hub."
Details:
How has the pandemic impacted demand, absorption and development? Will that impact last?
How have incubators, accelerators and coworking spaces functioned throughout the pandemic?
Has venture capital funding increased or decreased due to the pandemic?
What are the advantages and disadvantages of developing CRE for the life sciences industry?
How can the California real estate sector support the life sciences sector? What type of facilities are in demand now?
What You'll Learn:
What does the life science developer strategy look like moving into 2021. The effect of the pandemic on facilities and development. An update on investment activity in life sciences. What is the current supply and demand for incubators, accelerators, co-working spaces. An update on life sciences tenants moving into 2021.

How You'll Do More Business:
You'll gain insights into what factors are driving life science expansions and new developments. We'll dive into the state of life sciences in the Peninsula and the future of design, construction and development.

Who Attends:
Brokers, life science facility owners, developers, investors, construction, designers, architects, financial institutions, government officials and more!

Why You Should Attend:
2020 reminded us of the importance of updated and functional life science facilities. This Bisnow event will bring together the most important players in the Peninsula to give an update and identify opportunities, while helping you build your network and expand your business. With the largest audience of commercial real estate professionals in the world, we'll hear from the industry's leading experts on what the pandemic has taught them and how to future-proof our life science facilities.
Click here for more information.