Farella Braun + Martel Receives Leadership Council on Legal Diversity 2020 Compass Award
November 3, 2020
Announcement
SAN FRANCISCO, November 3, 2020: Farella Braun + Martel was named a 2020 Compass Award honoree by the Leadership Council on Legal Diversity (LCLD) for the firm's active involvement with LCLD's programs and the promotion of LCLD's mission.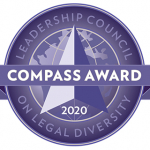 The Compass Award recognizes members who attend the LCLD Annual Meeting and participate in the Fellows and Pathfinder programs, as well as at least one pipeline program.
Earlier this year, Farella announced that Sushila Chanana was selected to join the 2020 Fellows program and Winston Liaw was selected to join the Pathfinder program.
Founded in 2009, LCLD includes more than 300 corporate chief legal officers and law firm managing partners who are committed to creating a more diverse and inclusive legal profession.
Farella Braun + Martel is a leading Northern California law firm representing corporate and private clients in sophisticated business transactions and complex commercial, civil and criminal litigation. Clients seek our imaginative legal solutions and the dynamism and intellectual creativity of our lawyers. We are headquartered in San Francisco and maintain offices in the Napa Valley that are focused on the wine industry.
Contact:
Cheryl Loof
Farella Braun + Martel LLP
[email protected]