Downtown Oakland Slated for Increased Development
November 1, 2019
Articles
The City of Oakland spent the last four years developing the Downtown Oakland Specific Plan to address growth and revitalization of the downtown area over the next 20 years and to ensure that development takes into consideration the broad needs of the entire Oakland community. Recently, the City released the draft Specific Plan and its related draft Environmental Impact Report ("DEIR") and is accepting comments on both documents until November 8. The City expects to adopt the Specific Plan in summer 2020.
Some of the key land use goals of the Specific Plan include:
More than tripling the current housing stock by adding 42,799 units by 2040, bringing the total number of dwelling units located in the Specific Plan area to 57,831;
Building between 4,365 and 7,275 affordable units in the downtown area by 2040;
Locating newly defined "Office Priority Sites" near BART stations within the downtown core area; and
Updating the Jack London Area zoning, which dates to the 1960s and is inconsistent with the General Plan.
The below image shows what the City is considering for the Specific Plan area in terms of maximum development intensity: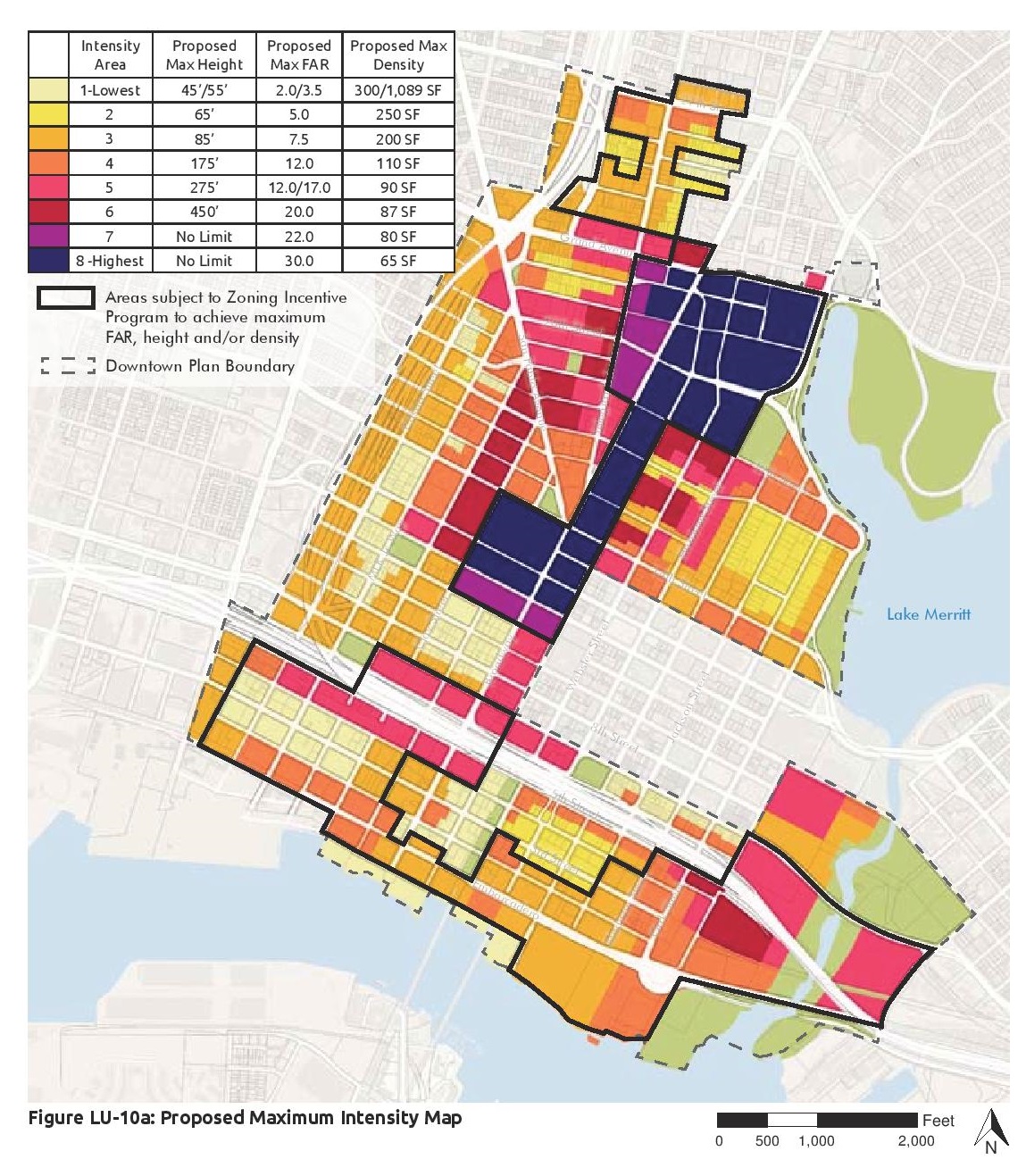 The City intends to achieve these goals through a number of proposed actions and incentives, which include:
Revising land use and zoning regulations to reflect Specific Plan goals and target new density near transit, through increased allowable height, Floor Area Ratio ("FAR"), and/or density (among other options);
Developing a process to expedite the review and approval of planning and building permits for 100% affordable housing projects;
Designating "Office Priority Sites" requiring a certain percentage of gross floor area be dedicated to commercial office space;
Creating a streamlined development incentive program to provide increased building intensity in exchange for clearly identified community benefits;
Locating and adjusting zoning for opportunity areas with high potential for development to allow homes in high-intensity and mixed-use neighborhoods, such as Jack London's Victory Court area and portions of Laney College; and
Studying an additional development density bonus option for projects that provide housing with units and amenities designed to accommodate families with children – particularly, three-bedroom units.
As part of its planning efforts, the City conducted an analysis of new development sites downtown (primarily surface parking lots, vacant parcels, and underutilized sites), which revealed significant opportunities for additional infill of office, residential, arts and commercial uses downtown over the next 20 years. Other opportunity areas include Victory Court in Jack London, along 7th Street near I-880 in Old Oakland, and in the Lake Merritt Office District.
The Specific Plan contemplates amendments to the General Plan land use designations, which is shown below.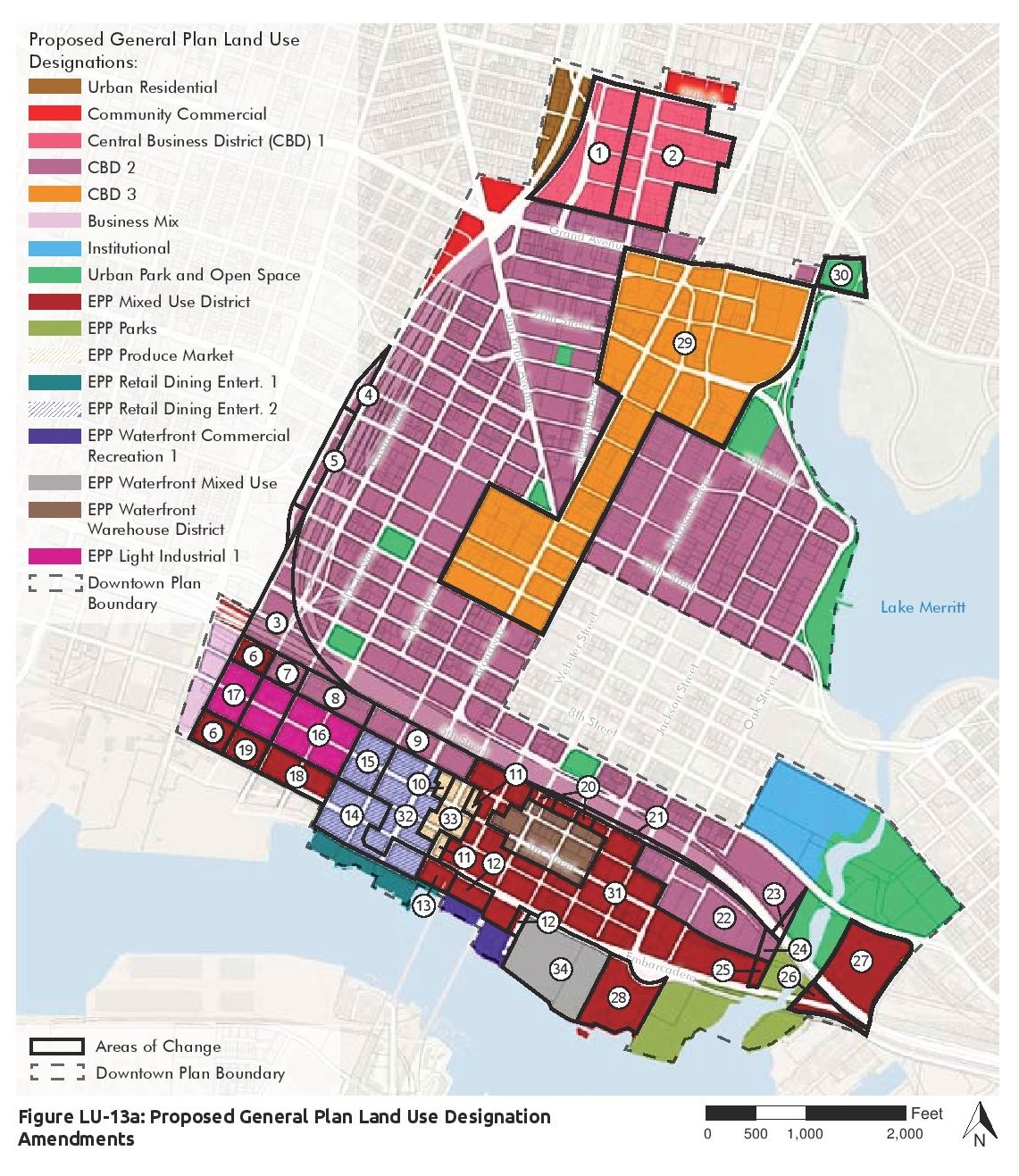 We encourage those interested in Oakland projects to review and provide feedback on the Specific Plan and/or DEIR by the City's November 8th deadline. To read the draft Specific Plan and DEIR, visit: https://www.oaklandca.gov/documents/draft-dosp-eir. The City is accepting comments via e-mail at: [email protected].